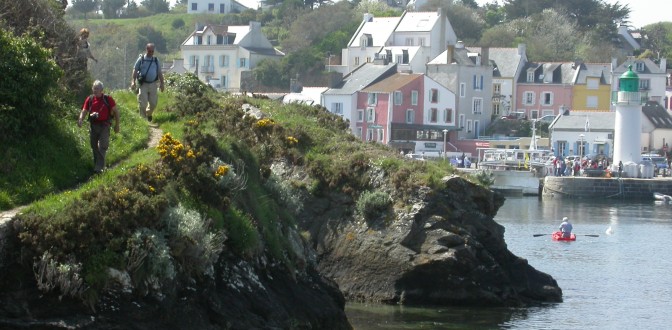 Hiking on the GR340
Discover Belle-Ile-en-Mer on foot!
Hike along the GR340 trail to visit Belle-Ile-en-Mer in complete safety.
This 82km hike takes a certain amount of time but is well worth it for the views!
This 4-day hike is a real treat and you will discover the treasures and magnificent landscapes of Belle-Ile.
Day 1 : Le Palais – Sauzon (23,5 km)
Day 2: Sauzon – Bongor (30,5 km)
Day 3: Bongor – Locmaria (23 km)
Day 4 : Locmaria – Le Palais (17,3 km)
We can assure you that at the end of the hike, your first reaction will be "I want to go back"!
There are signposts all along the trail:
Directional signs.
Granite markers to show you where you are and where you are going.
GR markings with the white and red marks that show you the direction to follow.
All the trails on Belle-Ile en Mer are described in full in the walking guide. This guide includes 17 coastal and inland circuits between 1.5 and 3.20 hours (from 5 to 13 km) with detailed maps.
This guide is available from the tourist office for €5.
To really enjoy your hike, a good night's sleep is necessary! Our 4 star campsite located in a green and restful setting – you will certainly get all the sleep you need here!
For more information, please contact us at 00 33 (02) 97 31 88 96
Belle Ile in 4 days
Belle-Ile on foot, a memorable hike that will really impress you.
Le Palais – Sauzon
For this first day of hiking from Le Palais to Sauzon.
This trail is about 23.5 km long and takes about 6 hours.
This trip starts with the climb up the Vauban citadel.

Follow the coastal path with its flowering moors and stunningly blue water.

Continue from cove to cove along the coastal path.
At the end of this hike, take a stroll through the village and you can continue to the impressive Pointe des Poulains.
Sauzon – Bangor
For this 2nd day, you'll start from the Port de Sauzon.
This trail is 30 km long and takes about 7h30.
First of all, start by walking along the wild coastline towards Fort de Sarah Bernhadt (museum).

Continue around the golf course, then the anchorage of Ster Vraz and the Donnant beach.

Continue to the famous needles of Port Coton (painted by Monet), where you can see the Kerel beach.

You may be able to have a swim in the weather is good!

To finish this trail in style, follow the signs to Bangor where you will be able to finally rest after 7.5 hours hiking!
Bangor – Locmaria
On this 3rd day, go from Bangor to Locamaria.
This leg of the circuit is 23 km and takes about 6 hours.
This trail may seem easier than the others, however this trail follows the coastal path and is often uphill.
Walk around many coves that are specially reserved for pedestrians.

Pass by the Kerel valley, the garden of La Boulaye, the Pointe de Skeul (cliffs with an incredible view) as well as Le Port de Maria.

End this leg of the circuit at Locmaria, where you can finally rest after a day's hiking.
Locmaria – Le Palais
The last day of hiking is from Locmaria to Le Palais.
It is 17 km and will take about 5 hours.
During this leg you will come across beaches that are more beautiful than the previous ones.

Admire the turquoise water in the port of Andro and out to see you'll see the island of Hoëdic.

Walk past the Kerdonis point and its lighthouse.

Cross the beautiful beach of Bordardoué.
Your hike will finally end at Le Palace.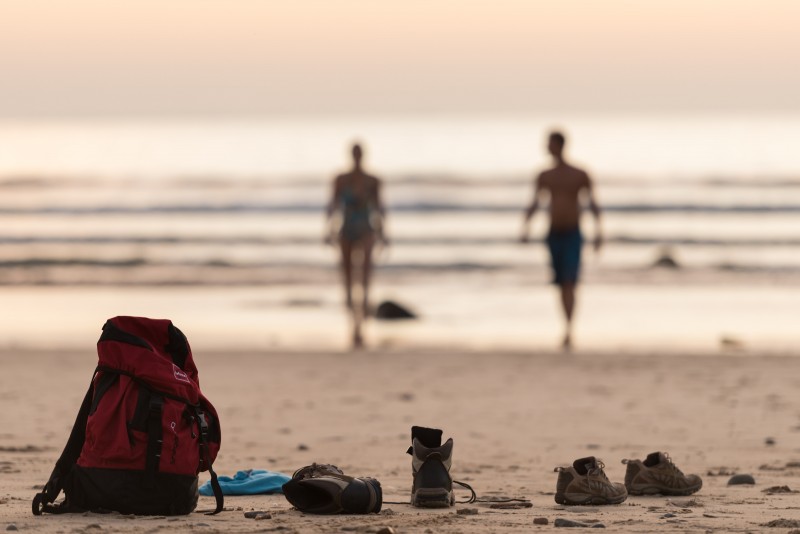 Hike from Le Palais to Pointe des Poulains
This hike is 19.1 km from Le Palais to Pointe des Poulains.
On this trail, you can discover the turquoise water of the creeks and the coloured houses along the way, to finish at La Pointe des Poulains.
The Port of Sauzon has become a pleasant marina whereas several years ago it was primarily a fishing port.

The Pointe des Poulains is a site that offers an exceptional panorama, you can admire the île de Groix, Lorient and the Bay of Quiberon.

The Conservatoire du Littoral took over the Pointe des Poulains in 2000, ensuring the protection of this natural area.
This hike takes 7 hours, however you will not be bored for a moment! Throughout the hike you will discover unique places and be permanently amazed by all these magnificent landscapes.
To conclude this great hike, you'll really appreciate the bus ride back!
To appreciate hiking it is necessary to get a good night's sleep! Our 4 star campsite is located in a peaceful setting where you'll be able to get all the rest you need!

For more information, please contact us on 00 33 (0)2 97 31 88 96